What are brand archetypes?
An archetype is a universal character or pattern of behavior that helps people understand themselves and the world around them. This timeless structure, discovered over 100 years ago, is being used by global brands to define their own brand archetypes, gain notoriety and increase loyalty.
"The priviledge of a lifetime is to become who you truly are."
Through the discovery of your Archetype, a brand identity will come to life.
Here are some global brands that use the power of Archetypes.
Pick your favorite one and discover its dominant positioning.
Innocent
Finding the positive in anyone or anything
Explorer
Changing the status quo to live something new
Sage
Being the most informed one in the room
Magician
Having the awareness to manifest a vision
Rebel
Daring to behave in ways that others don't
Hero
Staying determined, even after others have given up
Lover
Connecting us with experiences, through the senses
Everyperson
Making everyone feel welcome and included
Jester
Entertaining others to create fun experiences
Ruler
Taking charge of situations when things get chaotic
Creator
Pioneering solutions that help solve problems
Caregiver
Supporting others with protection and love
"To connect with people at the deepest level, you need stories."
Jung discovered that these archetypes have continued cross-cultural potency because they reflect our own 'collective unconsciousness', drives, needs, fears and desires - that are hardwired into each of us. And this forms the basis of storytelling...
Having worked with Sabrina to find my voice through my Archetype I can vouch for the fact that it contributes beautifully to creating an authentic brand, whether you're an extrovert, or an introvert like me. I strongly recommend!!
Paola Graziani, Manager, Quality Systems & Organization Development

For quite a while I was looking for something that could help me and my brand stand out. I was not sure what that was, until I met Sabrina.  Thanks to her, I discovered what brand marketing using Archetypes was all about. It literally opened up my world. Sabrina brings:  a strong willingness to serve and to make your brand shine, deep listening, attention to detail, great communication skills, and Frameworks adapted to your needs to help guide the process.  And to top it all off, she's a wonderful person to work with!
Ana Noriega, Coach

Advantages of using archetypal methodology
Connection
Faster and deeper connection with an audience because of how beliefs and motivations are articulated. This allows involved parties to validate fit more easily.
Clarify
The ability to synthesize the most important things brings simplicity and efficiency to all branding initiatives, reducing resources needed.
Meaning
Brings substance to one's story. Marketing efforts have positive ROI because everyone, both internal and external audiences, understand the brand's narrative.
Positioning
Increases one's competitive advantage by adopting a brand archetype or archetypal mix within its category.
Longevity
Sustains brand consistency over the years while allowing for flexible, creative initiatives that deliver specific messaging on a day-to-day or grassroots level.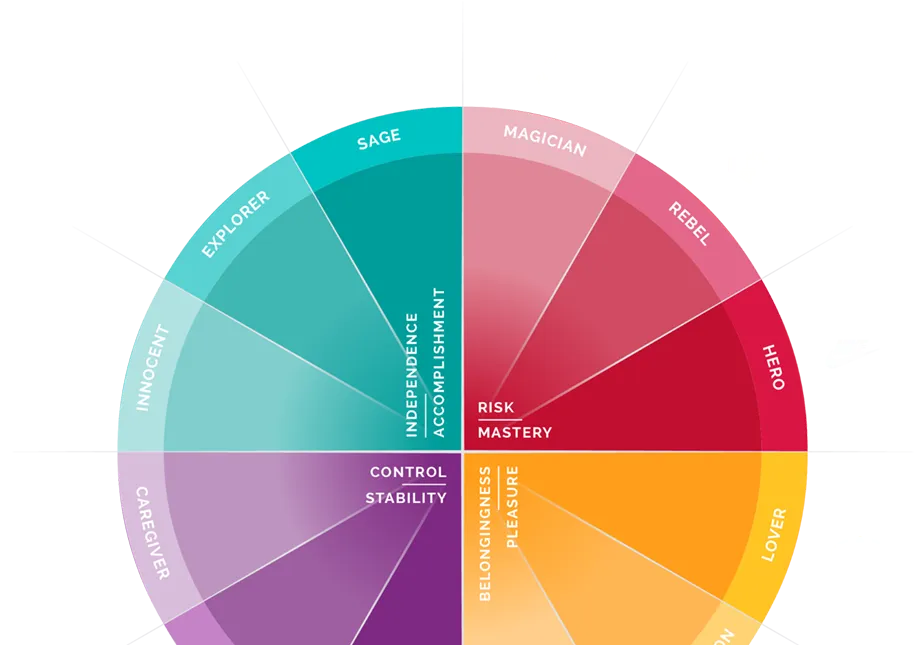 Discover the power of archetypal branding
Which of the 12 brand archetypes most represents you?
Leading global brands use the power of archetypes to stand out. And so can you.